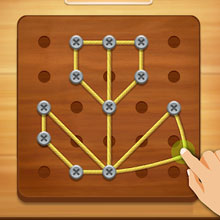 Weave Puzzle
HHTap
/
Puzzle,Levels,Physics,Rope
Related Games
Popular Games
Top Rated
HHTap
/
Puzzle,Levels,Physics,Rope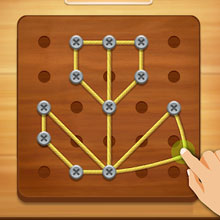 Weave is a free puzzle game that requires patience and thought. This online game has a calming brown and tan background and displays a turquoise string pinned to a board. Your objective is to manipulate the string to look exactly like the one in the display. Try to complete this in as little moves as possible to gain all 3 stars. Action and shooter games can be fun, but sometimes you just want to sit down and use your brain with an idle game like this one. Even though it's simple, you won't be bored! There are 60 puzzles waiting to be solved by you! The pins you'll find on the board are permanent but you can create new pins by dragging the string. Use the holes on the display and your own board to see exactly where each point of the shape you're trying to recreate is. Play again until you win all 3 stars and are at the top of the ranks!
To play this free puzzle game, use your mouse or finger to click and drag the string. Match it to the display.

Play Weave Puzzle On Your Phone
- Scan the QR Code with your phone.
- You can enjoy this Game on smartphone and tablet (Iphone, Ipad, Android devices and Windows Phone).

LANDSCAPE GAME
Rotate Your Device
Play Better