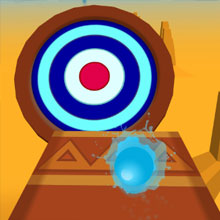 Desert Road
Desert Road is a 3D distance-based arcade game that takes place on a winding desert road. Jump across hoops, earn points and make it to the end like a pro by hitting the last target right in the bullseye.
This little glob of paint has a long way to go! Can you prevent him from going splat in Desert Road?
It will be rolling down a series of elevated roads while it travels through a dangerous desert in this avoiding game. Help it jump through the rings while it tries to reach the target at the end of each one. It can also collect more paint for every ring it successfully bounces through in this challenging and addictive action game.